"Sweet, funny, and quietly poignant, Debbie Tung's comics reveal the ups and downs of coming of age as an introvert.
This illustrated gift book of short comics illuminates author Debbie Tung's experience as an introvert in an extrovert's world. Presented in a loose narrative style that can be read front to back or dipped into at one's leisure, the book spans three years of Debbie's life, from the end of college to the present day. In these early years of adulthood, Debbie slowly but finally discovers there is a name for her lifelong need to be alone: she's an introvert.
The first half of the book traces Debbie's final year in college: socializing with peers, dating, falling in love (with an extrovert!), moving in, getting married, meeting new people, and simply trying to fit in. The second half looks at her life after graduation: finding a job, learning to live with her new husband, trying to understand social obligations when it comes to the in-laws, and navigating office life. Ultimately, Quiet Girl sends a positive, pro-introvert message: our heroine learns to embrace her introversion and finds ways to thrive in the world while fulfilling her need for quiet."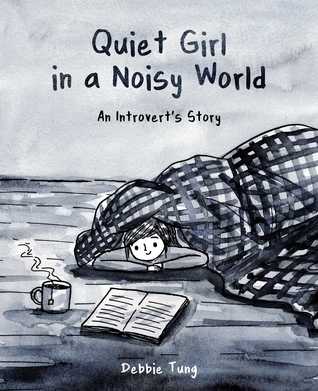 I got an ARC in return for an honest review on NetGalley.
I honestly though the cover was a baby dragon, chilling with his favorite book a cup of tea that he had heated himself by blowing on it. I was not far off. The story is about an introverted woman that comes into her own and realizes that she is not wrong or broken for being introverted. She learns to put herself first and allow herself the time she needs to recharge instead of killing herself for others. So, in my eyes the woman is in fact a dragon. She is powerful, brave, and should hoard more books and tea.
The book itself followed a very loose plot. I kept expecting there to be a real plot, but every time it started to get there, there were just random pages of one shot comics. The comics did give depth to the characters, but it felt a bit out of place. I loved the book and the one shot comics, don't get me wrong, but I kept getting pulled out by those pages.
I identified so much with both Debbie and her partner, depending on the scene. I am introverted to some extent (it is more like selective extroversion or an extrovert who can't stand being around people for long periods of time). My best friend from high school up to now is an introvert. I often had to navigate the social world for her. The dates that Debbie's partner plans were the same ones I planned for my best friend for our "parties". The anxiety Debbie faced at her wedding was the same anxiety that my  best friend was facing and I was trying to save her from.
The art was cute and it fit the story very well. The physical representation of recharging her social batteries was perfect. I am a sucker for a physical manifestation or a physical representation of mental illness and emotions in general. So this book hit that button for me.
I highly recommend this book for introverted people. I already sent about a dozen texts to my best friend trying to get her to read the book. I think it will help her.
4 out of 5 stars. I would recommend this book
You can buy the book here.
~Isaiah