"Judge Camille Avery, newly appointed to the federal court, is finally back on her dream career path. She's determined not to let any mistakes, past or future, get in her way, but a complex murder case and undeniable attraction to her rebellious law clerk threaten Camille's carefully planned future at every turn.
Attorney West Fallon is a social justice crusader, reluctant to put her career plans on hold to clerk for a federal judge, even if the judge is the man who saved her life. When he's suddenly forced to retire, West is stuck clerking for Judge Camille Avery, an infuriatingly stubborn—okay, brilliant, intense, and sexy—law-and-order jurist who seems just as unhappy to be saddled with her.
As Camille and West explore their growing desire and challenge the boundaries of their work and personal relationships, a big case threatens to destroy both their careers. Can their love survive?"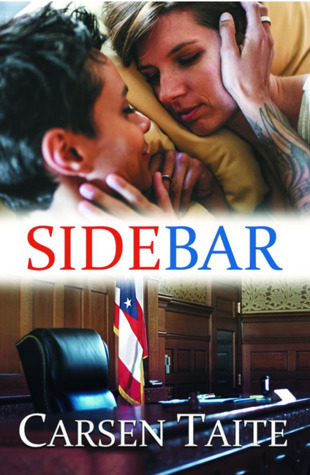 I got an ARC in return for an honest review on NetGalley.
So little known fact about me: I work in the legal world. I got this expecting it to be this terrible representation of the legal world like most TV shows are about it. This book was different than my experiences, but that may just be the way that county and federal differ. However, what I was able to piece together, this author did her research. There was a lot of spot on things that were great details like the characters using Westlaw to do some research.
The plot was engaging and interesting, until the very end. Things got to be a bit much. I can't go into too much detail in fear of spoiling the story, but it was just felt like conflict for conflict sake.
My biggest issue in romantic media is the propensity towards abusive relationships as ideal. This book manage to avoid that trap, but it fell into my second biggest issue with romance anything: jealousy as a sign of love. The characters were clearly into each other and were dealing with that, but then BAM jealousy. Jealousy is a negative and dangerous emotion. Jealousy is not a sign of love, but a warning sign. I hate how media hypes it up as you can't truly love someone unless you are jealous or having a partner that is jealous is a good thing. This book stopped short of glorifying it, but it was still an issue for me. The characters were motivated by jealousy and it was enough that I was disappointed since the book was doing so well.
Overall, I loved the characters and the story. I really would like to read more on them. The book ended just as things started to settle. there was so much more story that happened before and after that I need to read.
4 out of 5 stars. I would recommend this book.
You can buy this book here.
~Isaiah