"Are you a mom or dad? How wonderful and annoying for you!
Do you know someone who will soon have a baby? How exciting and terrifying for them!
Are your friends parents, too? Of course they are, those poor sons of bitches . . .
If you answered yes to any of these questions, then Fowler Language is for you.
And if you answered no, then congratulations, and feel free to sleep in this weekend!
Thirty percent of the content in Fowler Language is original to the book, and the Fowl Language bonus panels will be included. "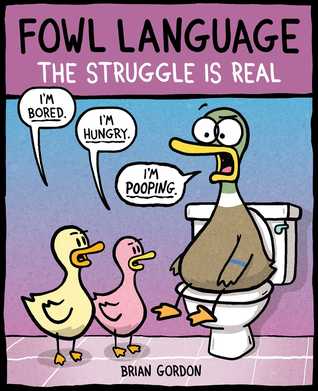 I got an ARC in return for an honest review on NetGalley.
I loved the few comics from Fowl Language that I had seen come across on meme pages and on Facebook. I thought I would give the book a shot.
I laughed out loud pretty constantly. I annoyed my friends to read the comics and kept shoving my phone in their faces. They either love the series or hate it now, hard to tell since I was bouncing around too caught up in the comic to really pay attention.
The basic premise is there is a duck family. The father duck interacts with his two ducklings as they act like typical children. I don't have children, but I have two very needy dogs so I feel like I understand the mild version of what the artist and author was going for.
The art is consistent, easy to read, and fits the story wonderfully. I doubt the comic would be as funny if the characters were anything but animals. It makes things seem a but more ridiculous which is fitting for the subject matter.
I am a big fan and I will be tracking down the other books!
5 out of 5 stars. I would recommend this book!
You can buy this book here.
~Isaiah