"A follow-up to the New York Times best-selling Deep Dark Fears: a second volume of comics based on people's quirky, spooky, hilarious, and terrifying fears.
Illustrator, animator, teacher, and comic artist Fran Krause has touched a collective nerve with his wildly popular web comic series–and subsequent New York Times best-selling book–Deep Dark Fears. Here he brings readers more of the creepy, funny, and idiosyncratic fears they love illustrated in comic form–such as the fear that your pets will tell other animals all your embarrassing secrets, or that someone uses your house while you're not home–as well as two longer comic short-stories about ghosts."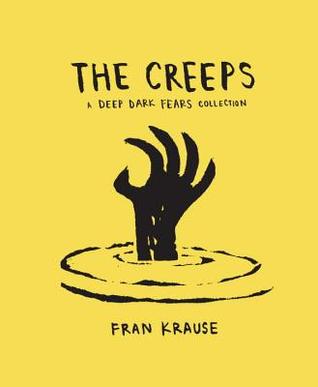 I got an ARC in return for an honest review on NetGalley.
I'm ashamed to admit that I had no idea that the different fears were submitted by people. I never gave it much thought. I just assumed all of the comics were about the author's weird fears. They were always so out there that I thought drawing them out was the way the author made light of their chronic fear condition. I am happy to have learned that the author is not in fact plagued by all of these fears at once. I was starting to get worried that the author might be in constant fear of everything.
I love the art style of the book. It is rough and perfect. I am always drawn to darker and rougher art styles. They feel so much more intense to me than the prettied up art. I for example only read A Monster Calls because of the art style. That is the main reason I wanted this book too. I had seen some of the art and really liked it. It fits the fears perfectly. It isn't overly grotesque or dark, but it is the right level to portray the fears that fans have submitted.
The fears themselves may not have been ones I shared, but there is something delicious about getting an intimate look into someone's fears. Its like you know them more intimately than you could have known them meeting them and just talking. It hit so many buttons for me.
5 out of 5 stars. I would recommend this book!
You can buy this book here.
~Isaiah