"To furious Adam Ridgeway, Kylie O'Connor was a walking contradiction. She touted matrimony yet worked as a divorce attorney. She championed having children but lavished her maternal instincts on a nephew. She denounced alimony yet helped his ex-wife rob him blind. He was determined to outsmart this slippery law woman — even if he had to maneuver her into his bed!
Despite Adam's cynicism, Kylie was a true innocent who cherished marriage and motherhood. And soon she was in love…and in labor! But would Adam convict her of setting a baby trap to snare a husband?"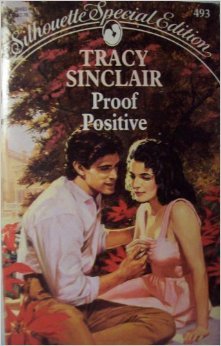 I found this book on the side of the road near CREAM in Berkeley. I picked it up expecting it to be awful. While this wasn't a great work of literary genius, it was entertaining.
So my usual rant about romance novels applies to this one as well: the main male romantic lead is abusive. Adam barely knows Kylie, literally only meeting her once, and he finds out where she lives and goes into her backyard without any permission. He then says that he will sleep with her. He spends the rest of the book trying to seduce her and sleep with her. There is a difference with Adam though, he makes sure that Kylie doesn't get pressured into sex. He actually turns her down because he didn't want to hurt her. Though it is still a power play that he is controlling her sexuality on his terms, it is nice to see that she was mildly respected.
Kylie, unlike most protagonists, has the ability to survive without a man and often does not give Adam what he wants. Though it is made clear that she doesn't give in surely on principle, because she really wants him despite him being super creepy.
I was less interested in Kylie and Adam as I was in Kylie's sister's relationship. Adam meddles in their relationship, just to get Kylie to love him.
3 out of 5 stars. I would not recommend this book.
You can buy this book here.
~Isaiah