"Like all great romances, it begins with an argument on the subway.
Well, not so much an argument as a staring contest between a dazed trans girl reading a surly trans guy. But when Stephanie bursts spontaneously into tears, it's Asher to the rescue. She tells him about the welcome yet unsettling threesome she shared had with her roommates, and he offers her the room his ex-girlfriend recently vacated. Stephanie falls fast, but Asher's afraid of getting hurt again.
Can a birthday cake finally get these sweethearts together?
This sweet and sexy transgender love story also appears in the anthology "Baby Got Back." "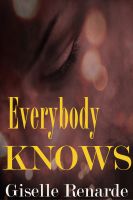 I got this trying to use a small Mastercard gift card so it wouldn't go to waste. I was hoping for something vastly exciting, but to be honest I forgot I had ever read it until I was going through my Kindle app trying to find a short ebook to review.
The book isn't bad or troublesome, but it is almost entirely forgettable. I really wish I could say better things about the book, but it was amazing or terrible. It was simply a book that I wouldn't be ashamed to say I wrote or one I would actively brag about (that's a lie, I would actively brag about selling a book).
I did like that there was a complex back story to the sexuality Stephanie. She had an affair with her two male roommates, which sounds like a bad porn plot for a gay novel that you get in those terribly seedy adult book stores. If this were full length, I would probably enjoy it on the same level I enjoy those books. While I wasn't blown away, I would read a full length version of this and will actively try to get more from this author as the book was well written for what it was.
It allowed the transsexual characters to have some sexual agency and allowed them to not be teaching tools or badly written porn characters. It is very rare to see a transsexual in erotica or porn that is not being type cast as a fetish or having to have that character explain how their body is different than a "real" woman.
While I wish the full length book that this appears in was less expensive so I could get it, I am happy to have read this short piece. For a quick read it made me happy and made me want more when I was reading it, but it was mostly forgettable after I put it down.
4 out of 5 stars. I would recommend this short ebook.
You can buy this ebook here.
~Isaiah