""Being a man, like being a woman, is something you have to learn," Aaron Raz Link remarks. Few would know this better than the coauthor of What Becomes You, who began life as a girl named Sarah and twenty-nine years later began life anew as a gay man. As he transforms from female to male and from teaching scientist to theatre performer, Link documents the extraordinary medical, social, legal, and personal processes involved in a complete identity change.
Hilda Raz, a well-known feminist writer and teacher, observes this process both as an "astonished" parent and as a professor who has studied gender issues. All these perspectives come into play in this collaborative memoir, which travels between women's experiences and men's lives, explores the art and science of changing sex, maps uncharted family values, and journeys through a world transformed by surgery, hormones, love, and . . . clown school. Combining personal experience and critical analysis, the book is an unusual—and unusually fascinating—reflection on gender, sex, and the art of living. This Bison Books edition features a set of discussion questions."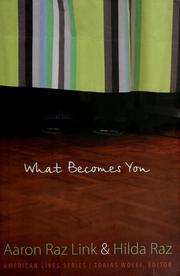 I got this book from a friend otherwise I probably wouldn't have grabbed it. The cover isn't one that made me want to read it and I am a bad bibliophile judging books by covers and titles. I am glad I got the chance to read the book, but it isn't one I will rave about.
The structure of the book has Aaron telling his story first. He is a gay transman who loves to perform. He is very scientific minded and surprisingly human despite his mind. From the first page I was hooked on Aaron's story and I wanted to read more. I was just so into it. I didn't know why, but I kept going. While it wasn't a funny memoir or a serious one, it was one that had me reading. I wanted to find out what Aaron had to say.
Hilda had the second part of the book. She is Aaron's mother, a great feminist, and a loving person. While I didn't care much for her section of the book, I did care for her. I was pretty bored through her portion (if she said one more time that Aaron told her to write her own story I would have screamed). I liked her story when she talked about herself and let me in on her world. I was really impressed that she was able to see where her feminism while well meaning and needed may not have lined up with rearing a male child (she didn't understand a great deal about his transition, but she is trying which is why she rates so highly in my list of mothers).
Overall, this book wasn't all that magical. It was more a real picture of humans going through some events and doing some stuff (real graphic description I know). While I was interested, I also felt like I wasn't getting a lot of real emotion from Aaron. I got a lot of real emotion from Hilda. Their stories and their writing were so different that it was fascinating to see how two generations of Raz can be so different yet so similar. I liked how the title was picked from Hilda's mother's saying. It really made the book feel like it was coming from a family.
3 out of 5 stars. I guess I would recommend this book. It isn't a bad book, but it wasn't amazing. I will pass it along if someone brings it up or brings up the genre.
You can buy this book here.
~Isaiah